Insurance is often intertwined with the state of the economy and society that any noticeable change in either will greatly impact the insurance sector. Insular Life's Corporate Sales Division (CSD), which exceeded its annual target after nine long years, mirrors this.
The Division handles the corporate, employee (more popularly known as Worksite), and OFW markets of InLife.
"No matter the shifting market conditions, we saw business and employee insurance packages on an upward trend – something that reflected in our ability to meet our annual target by 132 percent in 2017," said CSD Head and First Vice President Carlito V. Lucas.
"Our 107-year history and long track record of service make us a force to reckon with in group insurance, no matter the changing tides."
Stellar performance
During the year, the Division brought in ₱548 million in total first-year premiums, beating its year-ago performance of ₱338 million, a 62-percent growth. Its core business of group insurance has a far more colorful story to tell: total first-year premiums surged 227 percent to ₱337 million from ₱103 million in 2016.
"We attribute this stellar performance mainly to the commitment exemplified by our employees, as guided by their team leaders. We continually inculcate a culture of excellence in our ranks, each motivated to perform at his or her best," said Mr. Lucas, who highlighted CSD's synergy with Corporate Accounts Division (CAD) and Corporate Technical Department (CTD) to make things happen.
2017 was a banner for CSD, as a result ofseveral initiatives: Closely monitoring its sales outlook to assure first-year premiums collection;
Forging strategic partnerships with distribution partners such as the agency force, insurance brokers, and direct marketing allies;
Closing high-value accounts;
Creating the Group Market Development Unit for enhanced marketing and focused process improvements; and
Implementing activity metrics to ensure the greater efficiency of account executives.
CSD's production offered a boost to InLife's growth, particularly in Multiple Pay Policies (MPP), which accounted for nearly all of its closed businesses in 2017. MPPs amounted to ₱428 million, with a 33-percent share of InLife's total MPP first-year premiums. In terms of annual FYP, the division generated ₱548 million, which is nearly 10 percent of the Agency Distribution Channel's ₱5.5B production for the year.
Changing tides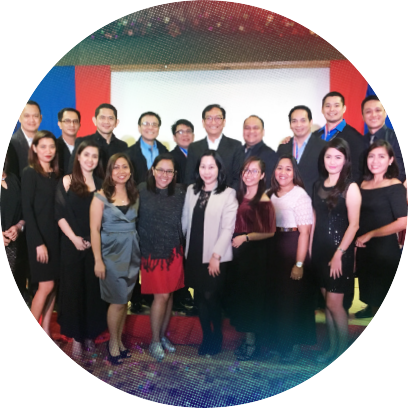 Apart from addressing organizational changes and strengthening ties from within, the Division also grappled with external factors. Among these were the constantly evolving local business environment and disruptive technologies.
While wellness incentives have been available to employees for several years now, Mr. Lucas said perks with long-term benefits such as group life insurance are now generating interest among companies, especially to those who compete to attract and retain their best talents.
"A secure future and financial help at a time of need will always be hot-button issues in the workforce, and we're glad to be the employers' provider of choice in this critical aspect. We also protect more people in a single-policy transaction," he added. "Our 107-year history and long track record of service make us a force to reckon with in group insurance, no matter the changing tides."
His division – formerly known as Group Marketing Division – has lofty growth prospects on the horizon that echo and reinforce InLife's aspiration of becoming No. 1 in the local insurance industry by 2022.
"Nothing is impossible with focus and determination. At a time when the Company needed to bring in the desired results from new business premiums, we attained 108 percent of our annual goal and broke our own record since 2008. It's something we're keen on replicating in 2018 and in the years to come," Mr. Lucas said.