Insular Life is at the forefront of the industry as a leading provider of financial products to the Filipinos.
Moreover, our operation is also marked by the impact it has created on the lives of our countrymen through the various initiatives we have instituted in our corporate social responsibility programs.
We believe that doing well in business – as we have been – and creating a deeper effect in the communities that we serve go hand-in-hand and a complimentary activity of a truly successful organization.
Even as we continue to find ways to serve our people through our products and services, we have also strengthened our services through the Insular Foundation and our army of employee volunteers.
CSR Highlights – Insular Foundation
In 2017, we are proud to report that the Philippine Council for NGO Certification (PCNC) has granted Insular Foundation with the "donee" status.
To be recognized as a donee by the PCNC is an affirmation of our organization's good governance in managing and administering our various activities, particularly the Foundation's flagship programs such as scholarship grants to poor but highly deserving students.
Gold Eagle College Scholarship Grant
This year, we resumed giving out Gold Eagle medals to 500 valedictorians of partner high schools. Recipients of the medals are eligible to vie for a slot to the Gold Eagle College Scholarship Grant.
Every year, the Foundation allots 10 new scholarship grants for students enrolled in the College of Education and two grants for students enrolled in the College of Mathematics at the University of the Philippines – Diliman (UPD) Campus.
Aside from UPD scholars, another three scholars from the five other State Universities in the provinces are given college scholarship grants for their students taking up education courses.
This scholarship grant covers tuition, miscellaneous fee, book allowance, board and lodging and stipend. Through this scholarship, the Foundation aims to encourage academically gifted individuals to pursue a teaching profession so that they can help improve the quality of education for the next generation of Filipinos.
To date, the Foundation supports 66 scholars enrolled in various partner state colleges and universities namely: University of the Philippines-Diliman, Aurora State College of Technology, Benguet State University, Bohol Island State University, Central Mindanao University and Davao Oriental State College of Science and Technology.
| Name of Scholar | Course | Honor |
| --- | --- | --- |
| 1 Vargas, Moira D. | Secondary / CA-English | Cum Laude |
| 2 Pasia, Arnel Joseph I. | Secondary / Biology | Magna Cum Laude |
| 3 Olaivar, Claire Marie G. | Elementary / SPED | Magna Cum Laude |
College Scholarship for Employee Dependents
College Scholarship Grants are also extended to qualified children of our employees. We are proud to report that our employee-dependent scholars are all in good standing and are expected to hurdle their college education with flying colors.
An employee-dependent scholar may choose whatever course he or she desires and each receive a tuition subsidy of ₱50,000 per term and book allowances of up to ₱12,000 per year.
In 2017, we have added six new well-deserving employee-dependent scholars, for a total of 16 Company scholars still in their various stage of schooling. So far, Insular Life has helped 55 dependent scholars who are now gainfully employed both here and abroad.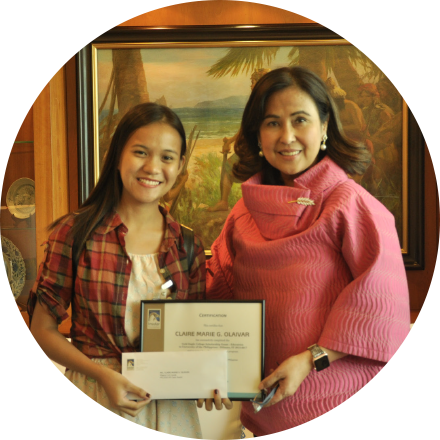 Gold Eagle Leadership Forum
Our scholars also get a continuing support from the Foundation in the form a biennial leadership forum.
Called the Gold Eagle Leadership Summit, the forum attracted thirty-one Gold Eagle current and alumni scholars October. During these events, we invite renowned speakers and past scholars to share their life-story and path to success.
During the second Gold Eagle Leadership Forum held at the re-opened and refurbished Insular Makati building, the invited speakers were Mr. Jayson Lo, a motivational speaker and book author, Department of Education Undersecretary Lorna Dino, Math and Education alumni scholars – Mr. Paul Dolores and Ms. Joyce Narsico.